Hello everyone, 
We have had some time off from our music, so I need to let everyone know what has been happening with us. Pat Murphy, my husband and the banjo player in our band, had a few health issues this winter. After some testing, the diagnosis came back that Pat has stage 4 colon cancer. The news was an incredible blow to us as you can imagine. Even so, Pat is actually in pretty good health, feels good, and does not look like someone who has cancer. He is keeping his very upbeat attitude and outlook on life (and sense of humor). He has begun his chemo treatments and will continue through August. After that, they will assess where he stands and decide what to do next in his treatment. We are not unrealistic, but we are in fact, very optimistic and hope filled. We hear of many good reports from people who have battled this thing and won. We are surrounded by lots of loving friends, family, and great support from our church. We are preparing and battening down the hatches for this storm that we are heading into. We are having to take some time off from our music, until the worst is hopefully behind us. We hope to be back playing our music as soon as we can! 
Most of all we ask, and thank you in advance, for your prayers. 
Because of this trying time that we are going through, our church has decided to host a benefit concert for us on Friday night, April 20th here in Mobile, to raise funds to help us financially as Pat battles this disease. Good friends, Doyle Dykes and Don Moen will be performing as well as the "Circuit Riders", a gospel/bluegrass band that Pat has been a part of in our church for many decades. For those who may not be able to attend and would like to donate, we have created a Donation button (see link above), via PayPal, where you can give by credit card. You can also send a check payable to Pat or Benita Murphy. I don't have the words to express how very humbled we have been by all of this and we thank all of you for your love and support! 
Pat and Benita ~ Delta Reign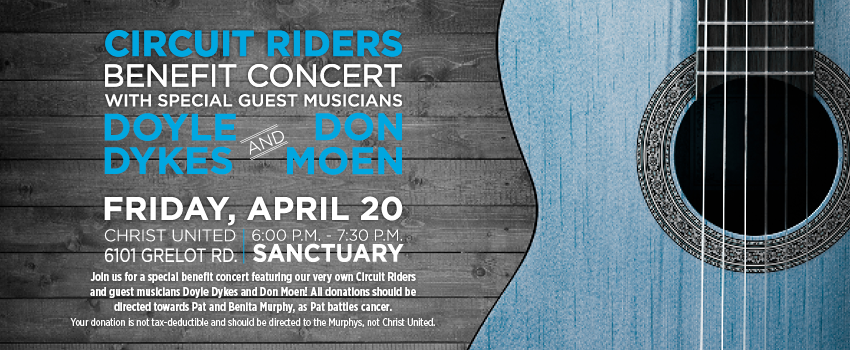 Venue: Christ United Methodist Church
Donations by check can be sent to the Murphy's